Vinaconex's Dak Ba hydropower project has attained 70% of its power production in less than 18 months since surveying the terrain of Truong Son mountain.
It only took Vinaconex 18 months to conquer the Dak Ba hydropower plant.
With this "incredible" construction speed, Dak Ba HP is projected to be completed ahead of schedule and connected to the national grid in December 2022.
Dak Ba HP was undertaken by Bach Thien Loc Joint Stock Company (a unit with 100% of the capital of Vinaconex Corporation) as the investor and Vinaconex as the general contractor, on the Dak Ba stream (having local name of Dak Bua), which is a level 1 line of the
River's upstream that belongs to Son Bua and Son Mua communes, Son Tay district, Quang Ngai province.
The project's exploitation diagram contains a run-of-river combined with a spillway dam on Dak Ba stream, an energy route in penstocks on the left dam side (energy route includes water intake – penstocks - outflow), an open-air power plant located in the Son Tay district's urban area, and spillway channels returning water to Lay stream that flows into the Dak Drinh river.
On June 9, 2022, the G5 - the last drill was finished, officially broke-through the entire tunnel of Dak Ba HP. This was done in an urgent and continuous construction of 3 shifts working for 24 hours per day regardless of the weather.
Accordingly, Vinaconex only needs 18 months to conquer the "energy river" of Dak Ba, compared to the 3-5 years required for typical hydropower projects, excluding the time of survey and preparation.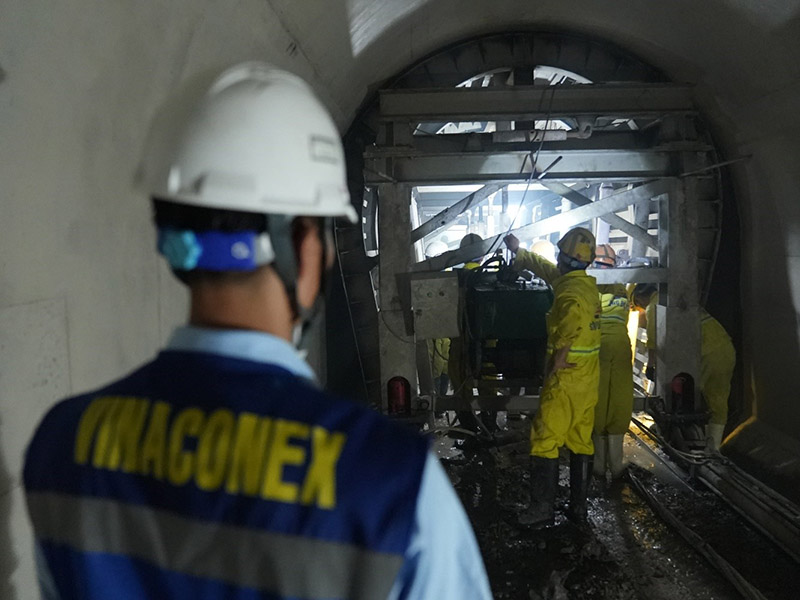 The entire route of the Dak Ba HP was tunneled one month before the schedule.
Taking into account the harsh climate and landslide-prone soil layer of the South Central Coast, General contractor Vinaconex had a variety of inventive construct solutions to address challenging issues. General Contractor Vinaconex is now accelerating all items including finishing the plant; installing equipment; experimenting; adjusting; test-running; synchronizing; etc.
As The Dak Ba HP operates in accordance with the water column and reservoir, the project's total site planning only covers 50.53 hectares, of which there's no natural forest or protection forest, only 3.3 hectares of production forest. As a result, the project has no great impact on the local ecology and environment.
In addition to accelerating execution during the wet season, Vinaconex prioritizes environmental conservation and restoration. The taluy grass system is being planted quickly to green the regions around plant and dam. It's expected that by the time of operation, there will be a green - clean ecosystem thanks to the early planting of trees.
In June 2022, the Management Board of Dak Ba HP also had the chance to welcome a delegation from a large Japanese corporation for a visit and involvement with the project. According to the delegation's assessment, Dak Ba HP is a high-quality project, and Vinaconex General Contractor has a clear work plan, always foresees obstacles, and successfully overcomes them during the construction process.
Regardless of the difficulties of the pandemic and harsh weather, the Dak Ba hydropower project has attained 70% of its power production, and it's ready for power generation on the national grid in December 2022. When completed, Dak Ba HP is going to have a capacity of 30 MW, an average annual power of 100.43 million kWh, and an approximate revenue of 130 billion VND per year. It would contribute more than 20 billion VND to the local budget, contributing to the socio-economic growth and economic restructuring of Son Tay District, which is a mountainous region with many difficulties in Quang Ngai Province.
After the equity restructuring process, Vinaconex has focused on three main areas: construction, real estate, and financial investment. Vinaconex is currently working on a number of large-scale projects that necessitate advanced technical and artistic abilities, such as Phu Bai Airport's Passenger Terminal T2, the Vinh Tuy Bridge Construction Investment Project - Phase 2, several large bidding packages for the Southeast East-North Expressway, the Cat Ba-Amatina tourist urban area, and so on. Recently, Vinaconex has also handed over the Mikazuki Hotel, Da Nang, a project to strengthen the friendship between Vietnam and Japan, to Mikazuki Corporation, Japan.
Baodautu.vn